(Over to Bobi – thank you. If you want to chat about the election check out the previous general chat thread -Juz)
Read the heading, guys, and when in doubt, read it again.
This has been a long, really long, in the spirit of America (Trump throws a long shadow) election, and we are all exhausted in my house. I hope this is not a sign of times to come.
There are four exceptions to the above:
. Barrie Cassidy's impending retirement and how sad that makes me.
. Clive, because he's an expensive joke.
. Tony Abbott because he's not in politics any more and I am not sad.
. And how much Peter Dutton looks like a thumb.
And to be absolutely clear, because I am the writer-in-charge here and can break the rules, no to discussions on Anning and Pauline. These people are not a joke, and the fact that their hate speech (not freedom of speech) has a platform in the media is shame on us.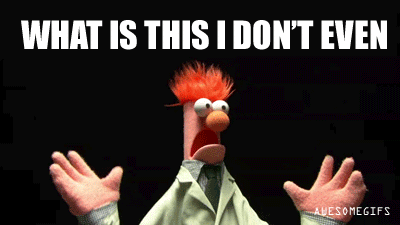 Which is why the Eurovision was so glorious to watch. How uplifting is this show. I am wallowing in the joy of the costumes, the dancing and the light show. How much money must this thing have cost? I thought Kate's performance was amazing. It's hard to say where I sit on the song itself. I've heard it a number of times now, whereas the other songs were new to me.
I am not loving Joel and Myf as commentators. I think I preferred the previous two. They were more across all the other countries and contestants, and Joel is trying to imitate Graham Norton, very poorly. I don't think I'll ever forgive him for IMACGMOOH-gate.
Is there a real reason for Madonna's eyepatch? Was it my imagination but did she sound a little pitchy to you? And they auto tuned the heck out of her new song which I am sure will still sell well. The audience looked bored. It takes real personal insight to know when to retire (as I pat myself in my back).
I watched The Repair Shop (ABC). It's a nice gentle show. I don't think I could watch it often. It's a bit like meditation.
What I am most looking forward to (see how I mangled my grammar there, Daisy? Just for you. ) is Season 2 of The Letdown (ABC). I am almost as excited about this as I was while I was waiting for Masterchef to return. I loved, loved, loved Season 1. Why is it so hard to get Australian content on TV? Compare this show to some of the American drivel that we are forced to tolerate because it's cheap.
So in that vein, just a reminder that Sisters in on Netflix just in case you missed it when it came out on FTA. It was a bit of fun and I am all for more of that. Much more. Bring it on.
Bobi