By Daisy
I thought I would pop in to a bit of MAFS to see what was on offer this year. It seems that since its TV debut, it has been going for more and more outrageous, tattooed and trashy characters; more bogans, shrews, tarts and trout pouts, more over-sized lips and boobs, fake nails, fake personalities and pumped up drama.
So far, this lot seem slightly tamer than last year's TV monsters. I think they have been making a mistake going for so many outrageous, aggressive and trashy couples. I think viewers would respond better to orinary, perhaps relatable, brides and grooms.
I wonder if producers have decided to strip back that Tiaras and Trash factor this year….but that remains to be seen. What we have seen so far are the usual introductions, first kisses, excited friends, protective friends, brothers and fathers, and a few honeymoon nights. We've had nerves, cold feet, delight and all the reactions to that first meeting at the altar that is the MAFS formula.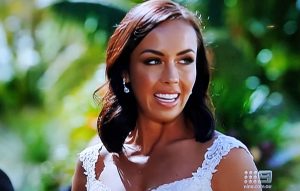 Amanda has been making the mistake of blabbing on about her ex. Poppy was playing almost-runaway bride. Natasha wants to escape her daddy issues. Her friend, who couldn't afford a shirt to wear with his suit, challenged Mikey about his awkwardness.
Bridesmaids and friends asked the usual 'hard questions'.
So, do I think I will watch this year? Maybe. Here and there. To come are the honeymoon nights, mornings after, drunken parties, tears, tantrums, break-ops, and sage narration and counselling from the the three wise monkeys, I mean relationship sexperts, who will be sure to prompt couples with probing questions like, "Have you had sex yet?".